Okay all of my cupboards are a dark chocolate
wood, a little darker then my dining table. I don't want to
paint them...I really do love them.
But
I needed to lighten the feel of the whole space.
I painted the walls with medievel ( a light
creamy/grey/pink color)
I loved the paint chip, but once it was on the walls
it really scared me.
Check out the paint chip above the mantle.
I was even thinking about painting all over again! YUCK
Who likes to repaint before the paint has had a chance to cure..lol.
Until yesterday when I started to play...
Now it is finally making sense, hahaha.
Phew, I knew it was there I just had to find it.
Have you ever had that feeling of ...
Arrgg, where was I going with this? lol.
Everything I used I already had. I just had to use it right.
Isn't that the way it should be...use the
things we love?
Thanks for the encouragement to work with it.
The added chocolate brown has made it all
flow from the kitchen to the dining room.
I'll show more once I am done this project that I
am working on right now.....o the suspense.
I am joining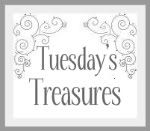 @
Have a super day!
Abby
:)